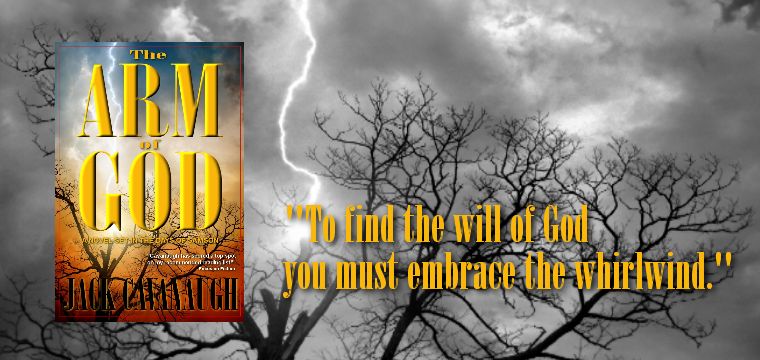 "A new perspective and a good choice for a historical fiction read!" – Amazon review
"Jump back into Biblical times and feel as if you are really there!" – Amazon Review
"What a fantastic book!" – Vicki Jones, Goodreads Review
"I caution the reader . . . this book will get you emotional!" – 5-Star Review
"Inspiring!" – Amazon Review
"Cavanaugh's style has never disappointed me." – Amazon Review
The Arm of God
A novel set in the biblical days of Samson
OF ALL THE TRIBES OF ISRAEL, only one fails to seize the land apportioned to them by God at Shiloh. When key families of the tribe of Dan abandon their promised land and migrate north, Eri ben Helek remains behind, pledging to lead his tribe and claim God's will for his people. Arrayed against them is the mighty Philistine Pentapolis with walled cities,  iron weapons and chariots, and armored soldiers outnumbering them a hundred to one.
FOLLOW THE INTREPID DANITE SOLDIERS as they make daring raids on a Philistine armory, suffer reprisals by the ruthless Seren of Ashdod, march into  battle with the Ark of the Covenant, and witness the exploits of the legendary Samson that thrust the tiny village of Zorah into an epic underdog battle for their very existence.
THE ARM OF GOD is a biblical adventure of personal faith, ruthless ambition, merciless revenge, seduction, betrayal, and supreme courage.
I read this non-stop on my flight to China. I have a new perspective of Samson and the time of the Judges and oh, how I want to see the whirlwind Thanks Jack Cavanaugh for another life-altering, fascinating, and supreme read! – Shelia Jones, Reviewer
KINDLE EDITION – click here to purchase
NOOK EDITION – click here to purchase
SMASHWORDS – click here to purchase
PRINT EDITION – click here to purchase
Or SEARCH your favorite e-reader store!